Join the fun at The Cartersville Service League Rummage Sale to be held at the Cartersville Civic Center, 435 W Main St, Cartersville, GA, September 16-19.
The festival returns September 18-19, 2021 and is open Saturday 10 AM-6 PM and Sunday Noon-5 PM. Guests will enjoy three acres of juried fine arts, skillful handcrafts, unique gift items, great food and performing arts.
Silk tree, 77" tall in bam- boo planter $25. Twin bed comforter (purple/lilac reversible) and several sets of winter and summer sheets & twin egg crate $25. call 770-656-6624. New mattress sets starting at $150. Call 770-382-4652. Quilted Full Mattress $149. with...
No Results Found
The page you requested could not be found. Try refining your search, or use the navigation above to locate the post.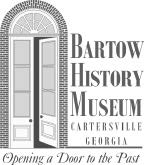 Written by Bartow History Museum
The November 14, 1946 Weekly Tribune News reported that the Cassville PTA had recently launched a drive to raise funds to build a Cassville School cafeteria. The cost for building the cafeteria was estimated to be between $5,000 and $6,000. It was decided the best way...
1492 - Christopher Columbus set sail from Palos, Spain, with three ships, Nina, Pinta and Santa Maria seeking a westerly route to the Far East. 1790 - The first U.S. census was completed with a total population of 3,929,214. 1892 - Charles A. Wheeler patented the...