Come shop local and give back to your community at the same time!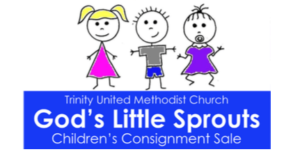 God's Little Sprouts is a twice a year consignment sale, sponsored by Trinity United Methodist Women, that features all things babies, maternity, kids, and teens at a price that is amazing. This year our community celebrates our 21st year of this tradition! Many individual needs are met of those in Bartow County from the 30% that is earned on each item purchased. So not only are you able to shop for your little ones you are also able to give back to your community at the same time.
What can you expect to see at God's Little Sprouts? With over 20,000 items to choose from, you're sure to find something perfect for everyone in the family. From expectant moms to families of newborn babies, from families of toddlers to families of teens, we have something for everyone! Don't just take our word on it though. Come and check it out for yourself! Buying new-to-you items at a fraction of the price will ensure you can fill your closets without empting your wallet!
The sale will open on Friday, August 17, at 8:00 a.m. until 7:00 p.m. On Saturday, August 18, you can shop from 8:00 a.m. until 1:00 p.m. and some items will even be half price!
For more information, visit www.godslittlesprouts.com. The sale is located in the Family Life Center at Trinity United Methodist Church, 814 West Avenue in Cartersville, across from Ingles. Come early and enjoy the best selections. We look forward to seeing you there!