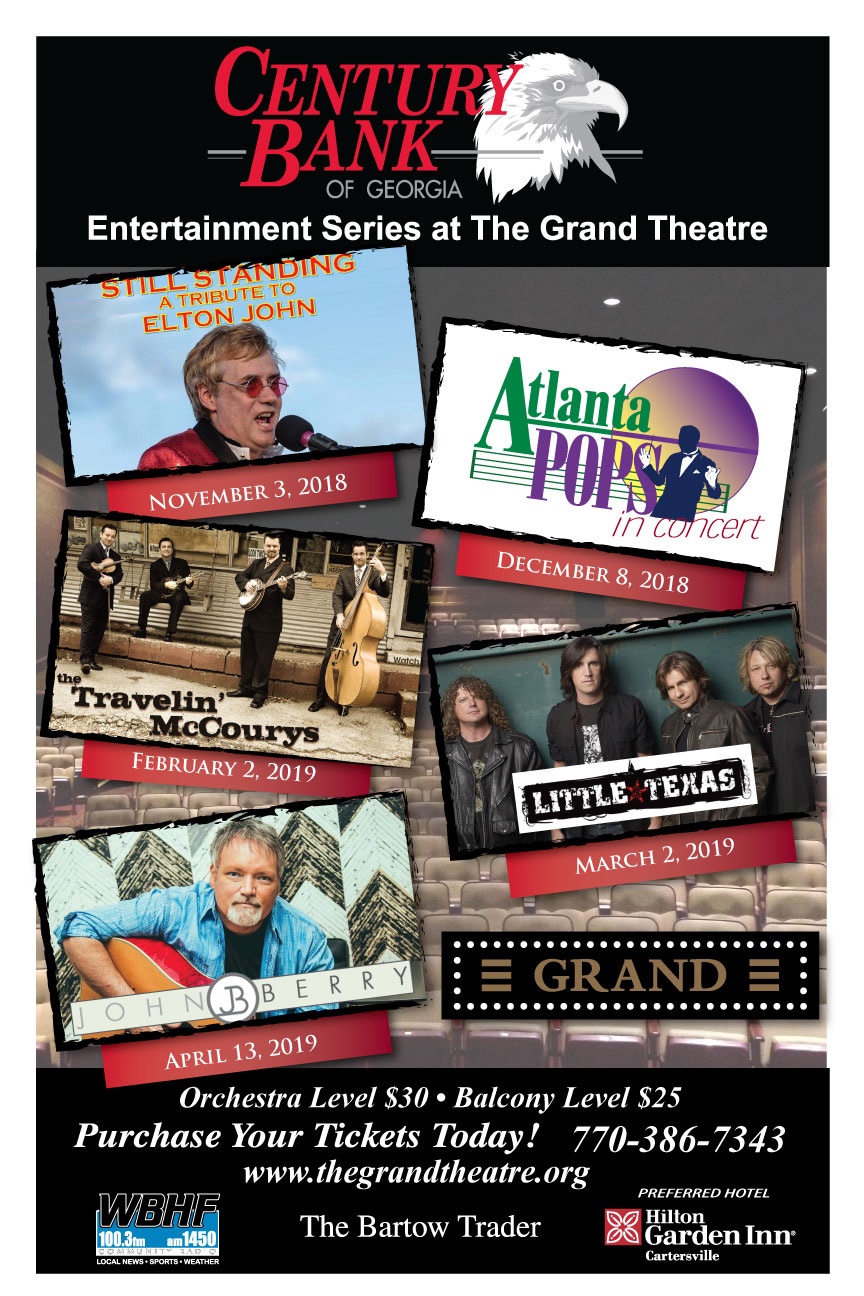 Century Bank Entertainment Series at The Grand Theatre Lineup Announcement.The Grand Theatre is pleased to announce this year's Century Bank Entertainment Series at The Grand Theatre events. Season tickets and individual event tickets are on sale now online at thegrandtheatre.org and at The Grand Theatre Ticket Office in downtown Cartersville.
The series opens on Saturday, November 3rd with Still Standing – A Tribute to Elton John. The words and music of Sir Elton John and Bernie Taupin are a soundtrack to our lives and their legendary catalog of hits will take you on a trip through time and memories gone by. No band triggers these emotions and carries on their legacies better than Still Standing: a Tribute to Elton John. To see them perform live is an experience unto itself. Fronted by Ben "Almost Elton" Frey who mirrors Sir Elton's look and sound, you'll question whether you are witnessing a tribute act or in the presence of the real thing. Formed on the Gulf Coast of Florida and Alabama, Still Standing is composed of long time music veterans who strive to have you singing and dancing to hit after hit after hit. We look forward to seeing you and taking you on a musical journey down the Yellow Brick Road.
The Atlanta Pops return for the twelfth straight year for our holiday concert on Saturday, December 8th. The Atlanta Pops returns for their 15th year of ringing in the holiday season at The Grand Theatre. Conductor Jason Altieri, leads 30 professional musicians through a wonderful selection of Christmas favorites. This year the Pops will be joined by local featured soloists Kimberly Human and Clay Duke.
The series continues on Saturday, February 2nd with The Travelin' McCourys. No other band today has the same credentials for playing traditional and progressive music. As the sons of bluegrass legend Del McCoury, Ronnie McCoury on mandolin and Rob McCoury on banjo continue their father's work—a lifelong dedication to the power of bluegrass music to bring joy into people's lives. And with fiddler Jason Carter and bassist Alan Bartram, the ensemble is loved and respected by the bluegrass faithful. But the band is now combining their sound with others to make something fresh and rejuvenating.
Country music band, Little Texas comes to The Grand on Saturday, March 2nd. As part of the Young Country movement of the early '90s, Little Texas were responsible for shaking up the country music world with a new, energetic sound that fused the look and attitude of modern rock music with traditional country themes and styles, bringing a much-appreciated bolt of life into the genre. For their efforts, country fans the world over richly rewarded the band, buying up over 7 million of their albums, while critics showered them with 3 Grammy nominations plus honors from both the Academy of Country Music (Vocal Group Of The Year) and the Country Music Association (Album Of The Year).
The final event in this year's Century Bank Entertainment Series at The Grand Theatre is John Berry on Saturday, April 13th. John returns to The Grand Theatre by popular demand, and this time he is bringing a full band. The singer-songwriter rose to stardom on the country charts of the 1990s with such mega hits as "Your Love Amazes Me", "Standing on the Edge of Goodbye" and "She's Taken a Shine". He has earned multiple Gold and Platinum records over the years.
Orchestra level tickets are $30 and balcony level seats are $25 for individual events. This price includes taxes and fees. Season ticket purchasers get a ten percent discount on their seats. All events are reserved seating. Purchase your tickets online at thegrandtheatre.org, at The Grand Theatre ticket office, located at 7 North Wall Street in downtown Cartersville, or by calling 770-386-7343. Visa, MasterCard, Discover Card, and American Express are accepted. The ticket office hours are Monday through Friday from 8:00 a.m. to 11:00 a.m. and 12:30 p.m. to 5:00 p.m.
More show information and video samples can be found by visiting The Grand Theatre website at www.thegrandtheatre.org or on Facebook at "Century Bank Entertainment Series at The Grand Theatre".