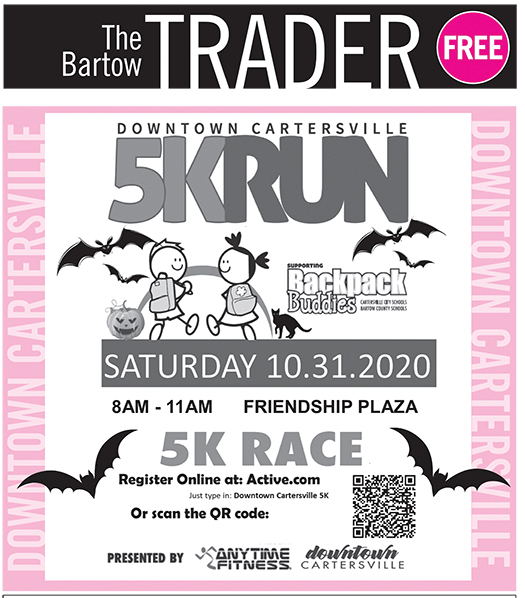 The Backpack Buddies 5K Race in downtown Cartersville is returning for another year on October 31! This event raises money to support the Backpack Buddies cause, which provides food-insecure children in Cartersville City and Bartow County schools with weekend meals during the school year.
The program was founded in 2010 and originally served 60 children, but it has grown over the last 10 years and now serves 1,000 children each week. Kids in the program receive a backpack containing nutritious self-serve food before the start of each weekend, which helps provide sustenance when school meals are not available.
Needless to say, it is a great cause so we are hoping lots of people will participate, but it's worth remembering that you can also donate directly to Backpack Buddies, or purchase a ticket and run virtually, if you don't want to join the in-person race yet still want to support Backpack Buddies.
Tickets can be bought in advance and it's worth pre-registering in order to guarantee your t-shirt size. Race-day registration will be located inside of Sam Jones UMC Family Life Center (100 W. Church Street) and goes from 6:30 -7:30. The race will start at 8am by the Bartow County Courthouse Annex and will finish in the center of downtown Cartersville at Friendship Plaza. It is a USATF-Certified 5K Course, which means that it is a Peachtree Road Race qualifier!
There will also be a 1K Fun Run at 9am for kids ages 5-10. You can find more information, and purchase tickets, at Active.com by searching for Downtown Cartersville/Backpack Buddies 5K.