On Saturday, July 20, northwest Georgia's favorite country band, Babe's Bayou, will be taking the stage in downtown Cartersville at the Music by the Tracks summer concert series. Presented by H&R Block, Hotel Meeting Match, Century Bank of Georgia, Southern Devil Harley-Davidson, and Georgia Highlands College, this series is in its 4th year and going strong. Babe's Bayou, out of Adairsville, is a well-loved group that is guaranteed to please. The summer concert is free admission and begins at 6 PM in the downtown plaza. It is a rain or shine event.
This year, the Downtown Development Authority added opening acts to the concerts. These opening acts are presented by Daniel Leiving and are the winners of Daniel's open mic competition that took place at The Local Bar and Grill in early 2019. The opening act comes on at 6 PM, and Babe's Bayou takes the stage at 7 PM.
"The Downtown Development Authority and Music by the Tracks planning committee are so excited to have Babe's Bayou return in 2019," Cartersville DDA Marketing and Promotions Coordinator, Hannah Surrett. "Babe's Bayou performed in the 2018 Music by the Tracks series and drew a staggering amount of people. They have an amazing stage presence and are a real crowd pleaser! I expect the attendance to be record-breaking at their performance on July 20."
Continued Surrett, "We are so thankful to H&R Block, Hotel Meeting Match, Southern Devil Harley-Davidson, Georgia Highlands College, and Century Bank of Georgia for their sponsorship of the Music by the Tracks concert series. Their generous contribution is what has helped up improve our lineup of artists that will be performing throughout the summer. Music by the Tracks takes place the 3rd Saturday of each month from May through September, so come on out and see what amazing talent we are bringing to Cartersville!"
From 7 to 9 PM, Babe's Bayou will take the stage. Featuring musicians Ryan Coker, Matt Chambers, and Matt Thornton, the group is known for their impressive vocals and three-part harmony. With 13 years of experience, Babe's Bayou has shared the stage with national acts like Luke Bryan, Billy Currington, and Kip Moore. They have also been voted Georgia Country Artist of the Year twice since forming their group.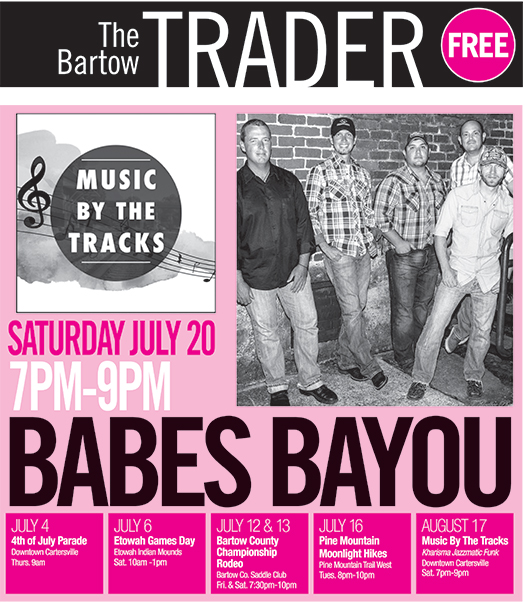 Attendees may bring blankets or lawn chairs to the event. We recommend arriving early to claim a good spot! No need to bring food or drink, there will be food and drink vendors at the event. The Local Bar and Grill will be selling alcoholic and non-alcoholic beverages, so please do not bring outside alcohol. You can also expect to see Coconuts Ice Cream, Mellow Mushroom, and more! This will be a night in downtown Cartersville you won't want to miss! Be sure to visit downtown cartersville.org for a listing of all the events going on in downtown Cartersville.